The circlepackeR package allows to build interactive circle packing. Click on a group, and a smooth zoom will reveal the subgroups behind it.
Circle packing is a visualization method for hierarchical data. This kind of data can be stored in 2 main ways:
Nested data frame
Edge list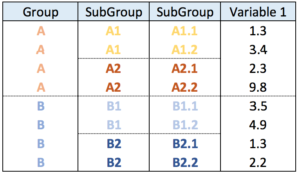 Nested data frame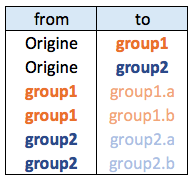 Edge list
Circular packing fom nested data frame
---
In a nested data frame, each line represents a leaf of the organization. Each column represents a level of the organization.
This data format will require the data.tree library to reformat the input dataset into something readable by circlepackeR.
Circular packing fom edge list
---
The edge list format has at least 2 columns. It describes all the edges of the data.
This format is widely spread. In this example, we just convert it to a nested data frame before plotting it as seen above.